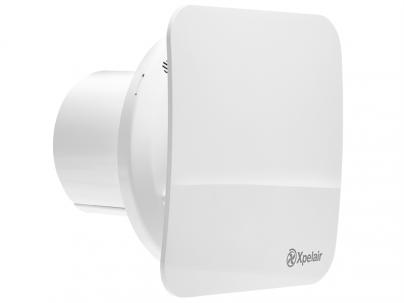 The Xpelair Simply Silent C4S is a two speed extractor fan, with a sleek, smooth finish. It is suitable for a wide range of applications including bathrooms, shower rooms and toilets, including zone 1 and 2 installations.

The fan meets Buildings Regulations Part F and has a standard control, which means that when connected to a remote switch, such as a lighting circuit, the fan will turn on when the circuit is switched on and off when the circuit is switched off.

The Simply Silent C4S uses unique, innovative Ghost™ air movement technology to deliver near-silent running. It uses long-life silent running motors and precision engineered components to avoid mechanical noise, whilst airflow management eliminates irregular air flow paths and turbulence.

Specifications:
Extract performance: 15/21 l/s.
Electrical power rating: 6.7/7.7Watt.
Specific fan power: 0.45/0.37 W/l/s.
Sound pressure level: 16/29 dba at 3m.
IP rating: 4.