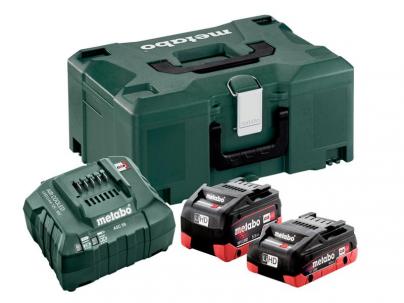 The Metabo Basic LiHD (Lithium-Ion High Density) Battery Set contains the following:

1 x 18V 4.0Ah Slide LiHD Battery
1 x 18V 5.2Ah Slide LiHD Battery

These Slide LiHD (Lithium-Ion High Density) Battery Packs provide the ultimate performance and extremely long application with minimal temperature generation. Ultra-M technology delivers intelligent battery management for long-lasting battery packs. Electronic Single Cell Protection (ESCP), protects each and every battery cell from discharging completely and from overcharging, for extremely long battery life. Compatible with all Metabo 18V machines and chargers that accept slide-on type batteries.

1 x 12-36V ASC 55 Air Cooled Charger for charging all Li-Power Compact, Li-Power Plus, Li-Power Extreme battery packs. It also charges all Li-ion and LiHD slide-on battery packs (12-36V) with adapted battery pack charging current. The 'Air Cooled' function is based on air cooling the battery pack during the charging process. The battery packs are gently cooled down to the required charging temperature and then during the charging process are constantly maintained at optimum temperature. With this principle, a higher tool life of the battery packs and up to 30% shorter total charging time can be achieved.

1 x MetaLoc II Case.